Congratulations to Bob Grier!


He's our winner for day 3 of our fantastic 12 Days of Christmas contest. He has won a beautiful round bookmark in sterling silver from Blue Nile Canada. The bookmark looks really nice and it certainly makes a great gift for Christmas! Bob simply mentioned in our comments section that he reads a lot and that he would appreciate this bookmark. Well, here you go, we're definitely happy that this price will go to someone that will truly enjoy it.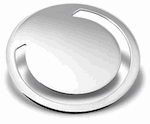 If unfortunately you haven't been lucky enough to win this giveaway you can always check our Blue Nile Canada online coupons page to get all of the latest discounts and offer codes for BlueNile.ca. One of my friend ordered a diamond necklace for his girlfriend from Blue Bile and he told me that shipping was really quick and that their service was excellent. Go and check it out for yourself. Don't miss out on the next prizes of out exciting 12 Days of Christmas event. As prices will get bigger and bigger!
Good luck everyone!
More giveaways to come in the following days from Sears Canada, Canada Paintball and Dell Canada! Keep an eye on our daily giveaways blog post and win awesome gifts!