Congratulations to Katy Kate!!!
You just won a Dell Mini 1018 from Dell Canada thanks to your extra entry that you got when you liked the post on

vouchercodes.ca Facebook account! I guess that you really are a lucky girl because you now have a brand new Dell laptop for free. This is an early Christmas gift. Many thanks to Dell for teaming up with us for this awesome giveaway that I think everyone would have much appreciated. And thanks to all the participants of our daily giveaways in our popular 12 Days of Christmas competition. And once again congratulations to all the winners and stay posted for more contests to come shortly on vouchercodes.ca. Happy Holidays to everyone!
This is already the last day of our fabulous 12 Days of Christmas contest which means that today's giveaway is our big prize from Dell.ca! Today's free gift is a Dell Inspiron Mini 1018 Netbook from Dell Canada. What an awesome Christmas present this would make! And this is our gift to you from the vouchercodes.ca team and also from Dell.ca who have accepted to team up with us for this superb giveaway.
Like for all the previous giveaways, you simply need to leave us a comment below on this blog post to get a chance to win today's giveaway. Plus, if you want to get an additional entry in the contest, go on thevouchercodes.ca Facebook account and like our wall post about this giveaway. This is easy to do and you'll automatically double your chances to win this Dell Mini Netbook!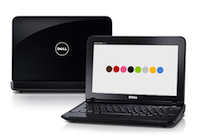 The Dell Mini 1018 is really lightweight (under 3lb) and so small that you can bring it anywhere with you to stay in touch and entertained while you're travelling. I have a Mini laptop myself and I can tell you that I'm always bringing it with me when I'm on the road and it's so useful and so easy to carry with me. I can take my emails, watch movies while waiting to catch a bus or a plane and also upload my pictures the same day I took them. And for those who are not sure about its size, it actually has a 92% full-sized keyboard and you really get used to the screen size, after a few minutes it doesn't even bother you anymore. Plus, you also have a 250GB hard drive and a battery that can last up to 7 hours and 18 minutes.
Dell Canada has ongoing coupon codes all year long that will allow you to get good discounts on your purchase. You can find all of the codes you need to get the best value for your money at our Dell.ca online promo codes page.
Good luck everyone! And don't forget to tell your friends and family about this fantastic giveaway, I'm sure they will much appreciate having a chance to win a Dell Mini ;)