With Moving Day unofficially behind us in Quebec, many individuals and families are undoubtedly in need of furniture as summer is one of the best times to move in Canada. Just in time, shop at Cymax.com for home and office furniture to enjoy up to $25 off with the codes below:
As usual, these codes are also available on our page for Cymax coupons.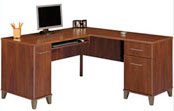 Whether for working from home or for catching up on assignments in the evening, the L-Shaped Wood Desk is sure to withstand countless grueling hours. Even better, it's currently on sale for just $319 instead of its original price of $459. This desk has even generated very positive reviews, with shoppers noting its durability, attractiveness and easy assembly, most notably for smaller offices.

For those who already have most of what they need, then perhaps the Granada Bench could make for an interesting bragging piece in the bedroom. Reduced by close to $200, it features Cordillera Pine finish along with upholstered seats — perfect as a statement piece or to actually sit on while the significant other takes too long to get ready!
Let us know on Facebook your thoughts on Cymax's home and office furniture.
Has anything caught your eye?