Fall is now officially upon us and as the leaves begin to turn in color and slowly fall to the ground, a nice cup of coffee is in order to warm up with. In celebration of National Coffee Day, which is observed yearly on September 29th, Coffees of Hawaii is offering 20% off all orders along with shipping for a flat rate of just $4.50!
For more coffee discounts, be sure to visit our Coffees of Hawaii store page.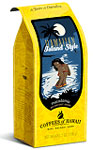 When you go to Subway, do you order those white chocolate and macadamia cookies? Now take a moment to imagine sipping on a macadamia nut coffee — taste the deliciousness for yourself by trying out a whole bag of it. Better yet, pour this delectable coffee into the espresso mug on the right to keep your liquid energy hotter that much longer as its made of ceramic.

All avid coffee lovers (and really who isn't a coffee lover nowadays?) should definitely consider accessorizing in the right way with the Koa measuring spoon made from Koa wood, which ancient Hawaiians used in the construction of canoes. Likewise, if you really want to wow your guests next time they come over, then the cappuccino white chocolate covered beans are sure to make many gaze up in satisfaction.
What is your favorite kind of coffee?