From lowering the risk of a number of cancers to improving vascular health, daily cups of coffee have shown to provide a staggering list of benefits. Perhaps this alone should be a motivating enough reason to invest in better quality coffee but just in case, we have also secured for you a VoucherCodes.ca Exclusive for Coffees of Hawaii! Save 10% off all orders and get shipping for just $4.50 with the code below: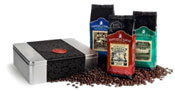 Although they have a variety of coffees to choose from, the Limited Edition ones are surely worth a taste. Just take for instance the 100% Oahu Peaberry which encapsulates a full bodied taste with a hint of semi-sweet chocolate — doesn't it sound absolutely delectable? A coffee like that won't even need any milk or artificial flavoring!
Considering the vastness of weddings being held in summer, come prepared with a wonderful Three Island Gift Tin, which includes three different coffees to sample from: the Hawaiian Espresso, the 100% Nightingale and the 100% Pōhaku O Kā'anapali.

Speaking of the last one, the Pōhaku O Kā'anapali is also available as a wedding favor for couples looking to provide their guests with an unforgettable souvenir. As the honeymoon is being enjoyed, you will also be able to think of the way in which guests are continuing to think of the wedding by drinking a hearty cup of coffee the morning after the wedding.
Don't forget to stay up-to-date with all of Coffees of Hawaii's promotion with our regularly updated page.
Are you a coffee lover? Let us know your favorite kind below.