Sales are neat enough in their own right, but a chance to save even more on already reduced items is just legendary. For a limited time, you can reap these rewards at Jacob; take an extra 30% off already reduced items. This sale is so awesome that it's spilling over to our Jacob discount page and making it even better!
Shop the sale section at Jacob here
Expires: Not Provided
Keep in mind that when you're staring at the wide variety of items available, that the discount is already applied.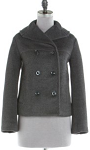 Canadians are no strangers to cold temperatures and you should prepare yourself properly with a decent coat; perfect example of this being the double breasted pea coat on sale at Jacob. Originally $149.00, it's dropped just as low as the temperature to a cool $83.99. Now, before you snub your nose at it because of the price, think of it this way; the price is supposed to reflect the quality and the sustainability of your item. This is not a coat that's going to last you one season and then find a home in your local dump; it's meant to last and to endure those harsh months.
Shipping is free with orders of $100 or more. What are you waiting for?