Every month, Chapters release a new coupon code that is normally good for a $5 discount on purchases of $30 or more. This month is no exception and you can find the September code below to enjoy the promotion that will last throughout the month.
If you still haven't completed your shopping for back to school or you just found out what textbooks you need to buy for school, Chapters is a great place to get what you need. Don't forget to use the code to save money plus get the latest deals and offers on our Chapters coupons page.
I was just checking the latest books released on Chapters.Indigo.ca and I found out that J.K. Rowling will be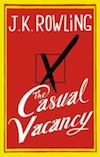 releasing a new book on September 27th. The story of the book called 'the Casual Vacancy' takes place in a small town that isn't what it looks like at first.
Are you going to buy the latest novel by J.K. Rowling? I'm more intrigued than interested in buying this book, only because she is the creator of the Harry Potter series, and I want to see what she can write outside of Hogwarts.
Let us know what you think about it if you ever read it.