Thanksgiving means a few things to me: turkey, friends, family and big sales. I love shopping all the deals that are available this time of year and Garage is having one epic sale! For a limited time, you can save 25% off and free shipping on your next order. We have also have a Garage coupon page filled with other goodies .
Find out more at Garage here
Expires: 8th October, 2012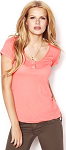 The Garage style is mainly casual clothes, but they do have some pieces that can be appropriate in an office! Take this pink short sleeve shirt–also featured–at $12.00 before the discount. Pair that with this studded cardigan in white and you have an instant top part to an office outfit.
The bonus? You can also mix and match both pieces with other things for even more clothing options. Don't forget that shipping is free, so go wild!