T-shirts here, t-shirts there, t-shirts are everywhere nowadays and have truly become a wardrobe staple! Get clothing that best suits your personality and humor and save up to 65% off at CafePress!
For all other items, be sure to use the September Savings code to save 15% off everything.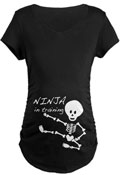 Make room for the baby bump this upcoming Halloween with the 'Ninja In Training' maternity t-shirt. As a form-fitting shirt, it features an adorable skeleton on the front that is sure to have everyone gushing over its cuteness.
CafePress even has a lovely Christmas maternity shirt: the Gift Bow t-shirt, which all future mamas should definitely look into getting.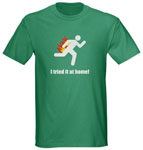 How many times have you been bombarded with a "don't try this at home" statement in the past month? Frankly, these seem to be used at the end of almost every sentence and really, don't you sometimes wish you could have tried it at home? Pretend you did with the 'I Tried It At Home' t-shirt, which is sure to guarantee a number of chuckles, especially if worn to class.
That's not all — with Dexter coming to a fateful end this week-end, order your memorabilia now with CafePress' Dexter merchandise, which includes everything from clothes (fan designed as well as official), bags and even DVD sets. How will it end?
Same goes for Breaking Bad actually: with only two episodes left, get your very own Heisenberg shirt — assuming you're Team Walt that is!