If you haven't had the chance to try out one of the specialty hot beverages from Tim Hortons, then you are missing out! Right now, for a limited time at participating locations, you can pick up a small Cafe Mocha, Latte or French vanilla for only $1. Don't forget that they recently changed their sizes and that what was previously the medium size is now the small size!
Find out more at Tim Hortons here
Expires: Not provided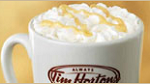 The French Vanilla drinks are one of my guilty pleasures and are a go-to drink whenever I'm near a Tim Hortons location. Despite talk of it being overly sugary, it's really not that bad as long as you don't over indulge on them. I have yet to try the other two, simply because I'm not brave enough.
Don't forget there's tax too, so it'll be a tad bit more than a $1 (depending on where you are). Try one of their bagels while you're there