For those who haven't heard of Buytopia yet, the time has definitely come for you to take a peak at their fantastic deals. Various items and deals such as trips to spas, price reductions on jewelry, electronics and much more are made available for bargain hunters to purchase at extremely reduced prices.
Tweet us @CouponsCanada which was the best deal you ever scored at this popular website or which offer has caught your eye.
Save up to 90% off on restaurants, spa, jewelry, gadgets and many more at Buytopia
Expires: Ongoing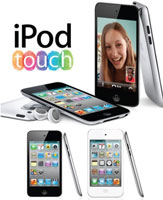 To stay up to speed with the current deals and offers from Buytopia, such as the ones mentioned above, visit our page dedicated to their promotions.
It's no secret that Apple's merchandise can range rather high in price with not too many savings to be had, but what if you could actually save on one of their products? With Buytopia, you can!
For a limited time, the 4th Generation iPod Touch can be yours for just $139, down from its regular price of $200. With 8GB, it can play movies, music, games, as well as record and take pictures along with many other cool features.
With the summer months fast approaching, it's time to get ready! Save close to $100 on a pair of Ray-Ban sunglasses and if you're a fishing fan, get a 6-hour finishing charter in Lake Ontario for 4 people for only $299, instead of its regular price of $600.
The deals mentioned in this post are only the tip of the iceberg in terms of the the sheer amount actually available at Buytopia's website and with shipping only at $10, what are you waiting for to get your savings on?