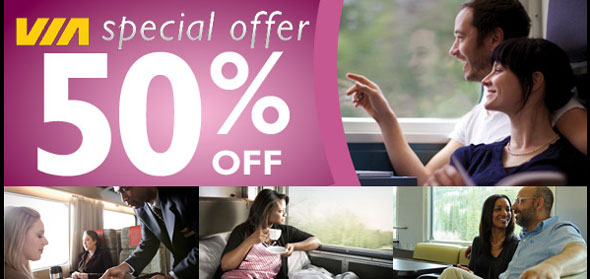 Traveling with Via Rail provides for a relaxing, stress-free experience, and most often than not, with more than enough legroom than on a plane. With the increasing sunny weather and warm temperatures, book now to save 50% on routes in the Quebec City-Windsor corridor, thanks to Buytopia's exclusive offer. Though this amazing deal expires within a couple of days, trips can be booked until August 28th, 2013.
So, what are you waiting for? Book now as tickets are going fast!
To make sure you don't miss any more deals like these, be sure to bookmark our Buytopia page of promotions and deals.
View Buytopia's exclusive deal for Via Rail
Expires: 9th April, 2013

As the title suggest, why fly when you can take a train? Notwithstanding overseas traveling, train travel is very comfortable and safe. Another much over-looked factor is that it's actually a lot more environmentally friendly to travel by train than it is by plane — in fact, it cuts CO2 emissions by a colossal 90%.
Here's an example of how much some of the one-way trips are reduced to:
Toronto-Ottawa: $69 for economy & $107 for business
Montreal-Quebec City: $43 for economy & $81 for business
Windsor-Quebec City: $136 for economy & $223 for business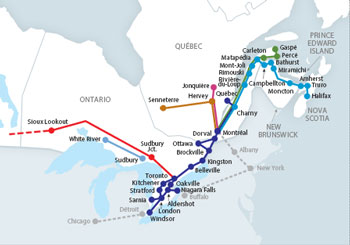 Tweet us @CouponsCanada which route you'll be saving 50% on!