Are you a fanatic of all things sweet smelling and glamorous that make you feel good, inside and out? If you are, I bet you adore our Body Shop Canada Page and visit it every day. Even if you're an amateur to all things yummy-smelling, you'll most likely enjoy the current offer: Buy any 3 items and get 3 for free site-wide. Buckle up, because we're in for a ride.
Shop the selection at The Body Shop
Expires: 28th October, 2012
All right, it's time to discover a product together friends: the mysterious beautifying oils. Specifically in chocolate because, admit it, which girl doesn't like the idea of walking around smelling like this sweet fragrance?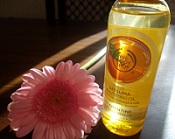 This product is a body spray designed for your face, hair and body, that is meant to moisturize your skin while smelling like all sorts of yummy flavours. It's said to give instant hydration and a shimmering finish to where you apply it. With bottles at $14, and it also being apart of the current buy 3, get 3 offer, you could pick at least one up for less.
You're not obligated to buy 6 of the same item to qualify for the special; you can mix and match away and choose what you'd like to buy. The lower priced items in your order are the ones given to you for free. As an extra special bonus, shipping is also free on orders over $50.