Adidas has teamed up with the national breast cancer association to help promote and support research and awareness. For a limited time, you can buy select pink items and 5% of total sales will go to this association. I'm a frugal-gal at heart, but I love these kinds of promotions and support them when I can.
Visit Adidas and find out more
Expires: Not Provided
We also have a dedicated Adidas Canada coupon page if you'd like to scope out a few discounts in the future.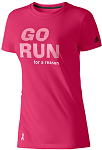 The selection of items aren't just any old articles, they are designed for whatever kind of workout you throw at them (that's what they claim). Each piece is designed with a special fabric to help keep sweat away from your body and to help circulate air more efficiently. I have a pair of shorts from Adidas with this technology in it and I don't know what I did without them!
Shipping is free for orders over $50.