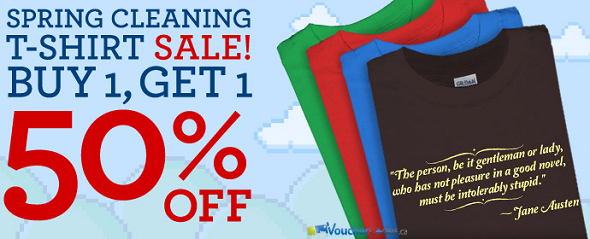 Thinkgeek is truly meant for all levels of geek: from the smallest and most amateur of lovers to the hard-core and intense. If you have yet to take a few minutes to browse through the selection available, you should really stop whatever you are doing and do so now. They also have interesting sales happening and right now, buy any one shirt and get the second one for free.
Shop at ThinkGeek
Expires: 3rd March, 2013
We also have some coupon codes listed on our Thinkgeek page for those interested in saving more.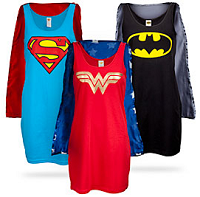 Have you ever dreamed of falling asleep like a Superhero? Be fabulous even while you snooze in the super-heroine sleep tanks on the left. Priced at $29.99, they feature comfortable stretch fabric and a detachable cape for all of your excursions.
Disclaimer: The cape will not enable you to fly.
Thinkgeek also has the men's version of these available in the form of footie pajamas at $39.99.
Show off your daring side in this "Non-Flammable? Challenge Accepted" shirt at $12.59. They also have a men's version right here if you'd like to be partners in crime.
Upon checking out, the final price won't be reflected until after you fill in your billing address. Right before entering your form of payment, the system will auto-magically added to the discount.