If you have yet to discover the vast amounts of ground coffee offered at the Starbucks Store Canada, then you don't know what you are missing. Once brewed, it's delectable, tasty and everything you could possibly dream of in a coffee. Don't believe me? Try it for yourself during the special offer of buy one pound of ground coffee and get a second one for free. Noting beats the word "free" and absolutely nothing beats free coffee.
Shop at Starbucks Store Canada Here
Expires: 22nd February, 2013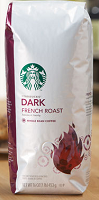 If you're like me, you must already have our Starbucks Store Canada page bookmarked.
I actually have a bag of Dark French Roast at my house and my roommates and I adore it!
With its smokey and rich flavors, it has quickly become a favorite in our household. For $16.95, a one pound bad is well worth it!
Another coffee type that we've had at our household is the House blend, which is a smooth medium blend that goes down easy. Priced at $15.95, its irresistibility is yours to be discovered.
Shipping is free on orders over $75, otherwise it's $4.95.