Halloween is a great opportunity to take incriminating photos of your children in embarrassing costumes. While your son may think it's cute to dress up like a fairy princess when he's young, he might be more than slightly embarrassed when he becomes a teen. Compile all these spooky shots in a photo book at Mypublisher and take advantage of buy one, get one free on photo books.
Claim this special offer at MyPublisher
Expires: 25th October, 2012
If you haven't used the software to design your masterpiece from MyPublisher yet, don't worry; it's pretty simple to figure out. Everything is customizable from the cover to the printing paper used and the placement of your images. They give you complete creative control of your book and the only limits are the ones set by your imagination.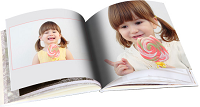 Deals like this are ideal; not only do you get one you can keep close to your heart, but you get a second one to give away to relatives or friends. Pictures are a great way to capture any moment and placing them in a photo book is a fun and practical way to keep them all in one place.
Shipping rates vary, so make sure to check it out before you make an order.