It's not always easy to stretch your buck the farthest it will go, but now you can give your wallet a break thanks to Addition elle! I was checking out our Addition Elle coupon page and noticed a deal that I just couldn't pass up and knew you guys would feel the same. For a limited time, when you buy a plus size sweater or blouse, you'll get another one at 50% off.
Visit Addition Elle and find out more
Expires: September 29th, 2012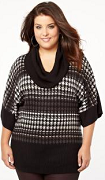 You can mix and match as well to get even bigger savings with this deal. The sweater featured here–which you can also find here–is a bit pricey at $69.99 but it's a style I would wear and would never go out of fashion. Pair it with this feminine blouse at $10 and you're on your way to an instant outfit.
Shipping is a flat rate of $7.50.