It's no secret that I'm a gamer girl at heart who enjoys most video games and one of them that has stolen my heart, since it was first conceived in 2000, is the Sims series. This epic saga spanning multiple spinoffs and add-ons is the mack daddy of simulators and, for a limited time, when you buy one select title, you can get another one for free.
Get your Plumb-Bobs ready to rumble and prepare to wreak havoc into the life of innocent Sims.
Shop at Origin Games here
Expires: 22nd November, 2012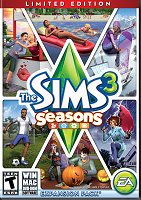 Seasons One, the newest expansion allows your Sims to either suffer or enjoy the random weather, a feature that is also part of this BOGO deal. I'm afraid to admit that I have all of the games, with the exception of the newest one. It's one of those guilty pleasures and I like doing the worst to my virtual people. It truly is a game for all ages!
A hint to get the most for your money: if you don't have the game, pick up the Sims 3 base game that comes with the new expansion plus the Sims 3: World Adventures expansion as your free game. It's the best expansion listed there and has a ton more game play than the other options. Your grand total will be $49.99 before tax for what would easily cost you double that.
Shipping is also free with orders of $39.99 or more. What are you waiting for! Stop reading and get ready to create your own virtual family.