It has been a while since we were given a new coupon for Mattel. But this discount is worthy enough to grab our attention, especially in the run up to holiday shopping.
Those looking for deals on a Barbie dolls or Batman or indeed any action figures are in luck. No matter the age, action figures and dolls never go out of style and are good for the little ones to have fun with for a few minutes. Treat the little princes and princess in your life this Christmas and buy their gifts at Mattel; when you buy 3 dolls or action figures, the fourth one is free.
Shop the selection at Mattel here
Expires: 28th October, 2012
Any grown woman will freely admit that they have played with a Barbie doll or two during their lifetime. I don't own anymore, but I wouldn't say no to playing with some if a little girl asked me to play with her.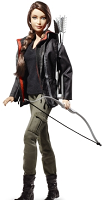 I'm super intrigued by this Katniss from the Hunger Games doll for $29.95—why knew?
The dolls and action figures can be mixed and matched; you don't need to buy 4 of one type to qualify for the special. If your future wrestling star wants a WWE Sheamus action doll along with a Barbie doll, then go for it! The lower priced doll is the one that you'll receive for free and you can't have more then one free doll per order.