What's better than getting one item for free? How about getting up to 3 items for free? Celebrate Thanksgiving with The Body Shop and buy 3 and get 3 free or buy 2 and get 2 free. This only applies on select items, but the choices are vast.
You can't combine coupon codes with this promotion unfortunately, but we do have a The Body Shop Canada coupon page with a plethora of codes for when this deal is over.
Shop the selection at The Body Shop
Expires: 8th October, 2012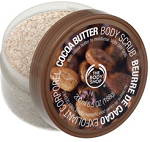 You can mix and match the items and the lowest priced items are the ones that are given free. If you want 6 of one item, then by all means go nuts!
Also, if you have yet to try any sort of body scrub from The Body Shop you don't know what you're missing! I had a friend pass me the Cocoa butter body scrub and I almost kept it for myself. It smells heavenly and it leaves your skin feeling like pure butter. A jar goes for $19.00, but it lasts a while and it's well worth the price.
Shipping is a flat fee of $5 of orders over $50 or free when you spend $75 or more.