This offer is available both online and in store, but it requires a printable coupon if you want to enjoy the discount in store. Until Sunday night, August 19th show this coupon in store and get 50% off any 2nd pair of jeans you buy at Warehouse One. If you shop online, no coupon code is needed and the discount is only available on select models. You can get free shipping on orders over $75 though.
Print this Warehouse One coupon
Expires: 19th August 2012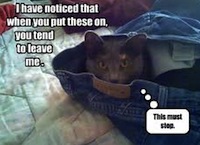 I've never bought jeans at Warehouse One because they don't have stores in Quebec, so what do you think about the brand? Do they sell quality products?
Just out of curiosity I went on Wikipedia to read about jeans and I found some pretty interesting facts. Did you know that jeans were invented in France by weavers in Nimes that were trying to reproduce corduroy that was made in Italy at this time. The name denim comes from the city where they were invented and fabricated: "de nimes" which means from Nimes.
They only arrived in the US during the 18th century while today no one could imagine not having at least one pair of jeans in their wardrobe. You can read more about jeans on Wikipedia.org.