Once again, Luisaviaroma has released a promo code to save an additional 20% on all the items that are already discounted–but this time only to our visitors. This is a prolongation of the summer sale where the discounts on select products are already up to 75% off.
This is not the first and certainly not the last coupon code to be released by Luisaviaroma so if you would like to stay posted about the latest deals, check the main Luisaviaroma offers page.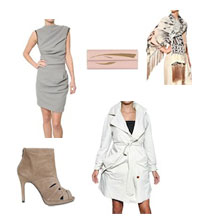 Even though the items on sale are mostly from the summer collections, you can still find loads of clothing that could be perfect for Fall.
This outfit that I built using discounted pieces only is a good example of what you could get. In reality I cannot afford any of these pieces, but in my dream I would have all of these and many more ;)
Here is the detailed list of the products: Roksanda Ilincic gathered silk crepe dress $928.67, Stuart Weitzman suede ankle boots $264.45, George Angelopoulos Inka gold plaque nappa clutch $579.14, Vivienne Westwood waterproof cotton garbadine trench coat $588.29 and Etro Swarovski fringed silk chiffon scarf $733.06.
That gives an impressive total amount of $3093.61 but $2474.89 after using the discount code.