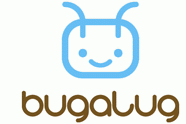 There are not many Back to school sales left now but this one is a goodie; Bugalug Canada aka BugalugBaby "Bugalugbaby.com" is offering 25% on absolutely everything when you use our coupon code.
Bugalug Baby offer absolutely the cutest Barrettes and hair accessories for children imaginable and best of all they are a Canadian company, if you looking for a children's gift you can't really go wrong with this site, even the site is cute.
So as of today and until the 15th September you can use our Bugalugbaby coupon code to get 25% off and for greeting cards you can get a whopping 50% off and another 25% off when you use the code. They are also launching a new product today called Pony Loops watch out for them, and they will be showing at the ABC kids show on September 12-16 if you are interested.