Coming to you at ultra-high speeds and in full force is yet another amazing VoucherCodes.ca Exclusive for Buffalo Jeans Canada. For a limited amount of time, enjoy absolutely free shipping on ALL orders and the best part is that there are a couple of sales that you definitely won't want to miss:
50% off already reduced merchandise (as low as $12.50!);
$10 off ALL shorts (ends April 29th, 2013).
Wow, when I saw the amazing deal to be had on the Tracy blouse, I just couldn't believe my eyes. Originally priced at $89, it has already been reduced once to $24.99 and can be yours for a mere $12.50! It comes in a acid washcolor and features rolled-up sleeves with a generally relaxed fit. As Talla from Big Brother Canada would say, do you love it?
In terms of denim blouses, the Trixie is definitely worth the peak. Unlike the one on the left, it comes in a true blue color and has more of a slim fit to it.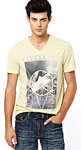 We all know how much certain t-shirts can end up costing quite a fortune, but the Nianos, which was originally priced at $45, can be yours for only $15 — a rather sweet deal for a 100% cotton t-shirt with a modern twist!
Let us know below which items caught your eye and be sure to stay up-to-date with Buffalo Jeans' future promotions.