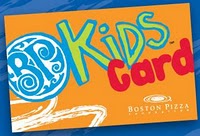 The famous Boston Pizza Kids cards promotion is running again. This is the deal (and it's a good cause); customers will receive five free kids meals when you donate $5.00 to the Boston Pizza Foundation. So not only are you supporting a good cause but your kids get to eat for free 5 times.
The promotion is running throughout the month of November across stores in the lovely homeland of Canada. The cards can only be purchased in store, so when you find your local Boston Pizza ask them about it.
What does the Boston Pizza Foundation do?

"Through various fundraising initiatives, the foundation has raised and donated over $10.5 million to non profit organizations and charities across Canada and around the world, supporting the health and well being of children and families."