Perhaps best known for their noise-cancelling earphones, Bose is a leader within the audio world. For a limited time only, you can get free courier shipping with every order:
Get Free Shipping at Bose Here
Expires: 31st December, 2012
Bose is also currently offering $150 off on a multi-CD changer with the purchase of a Wave Music System III. Admittedly, the price may seem steep at first (roughly $700), it is worth noting that it's an all-in-one system that you can pair with any device as well as with the Internet in order to listen to music at an incredibly crisp volume.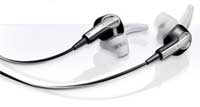 If you want to stick with Bose but get something a little more affordable, I would suggest the IE2 audio headphones priced at $119.99. Not only do they have improved comfort design, they also offer impeccable quality of sound.
Keep in mind that with the upcoming Holiday season, Bose could make for an amazing present since they are widely known for their superior audio quality.
Have you purchased anything from Bose lately? Did you enjoy your purchase?