The Body Shop is a guilty pleasure for me; I stand in adoration of their scented candles and body washes. That's why I always update our Body Shop Canada page with all the best savings. There's an excellent sale going on right now for fall essentials; pick any 4 of their select items and get them for only $30.
Visit The Body Shop and find out more
Expires: 3rd September, 2012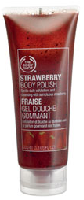 The best way to take advantage of this deal is to pick up any of the body butters or hand creams that range from $18-$20 each. Let's do some quick math here: each of the body butters cost $19 each so if you were to pick up 4 at regular price, which would come out to $76. With the promotion, that's a savings of $46 or 40% if you were to buy just those.
There's also a selection of body washes, scrubs, shampoos among other items if you'd rather. I think I might want to get my hands on the strawberry body polish to give it a try.