Fines aren't fun, especially when they're as high as $250! If you're looking to (or have been) operating a recreational boat, then pass BOATsmart Exam's test now and save $15 with the coupon below.
In case you're wondering if BOATsmart Exam is legit, it definitely is! In fact, it has even been accredited by Transport Canada, meaning that the cards they deliver are 100% certified.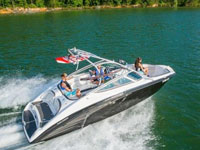 Basically, BOATsmart is a study guide followed by an exam that those looking to acquire their Pleasure Craft Operator Card can take from the comfort of their own homes.
Originally running at $49.95, the discount above brings it down to just $34.95 and although the test is reportedly harder than it used to be, it's nevertheless a small price to pay instead of being slammed with a hefty fine for not having the Operator Card.
Providing its educational material through Canadian Tire and Discover Boating since 2003, BOATsmart is a required exam for all recreational boaters, regardless of age or boat size. Providing those who pass the test with a Pleasure Craft Operator Card that never expires, the BOATsmart exam is a simple way to cruise along the waters of any province with complete peace of mind.
Have you been boating this year yet?