With only a few days left until Valentine's Day, today is definitely the day to order the perfect gift for your Valentine. Ranging from 4pm EST to 7pm EST, take a look at Blue Nile's Deadline page to figure out just how many hours (or minutes) you have left for the order to arrive perfectly on time. Hurry though, along with the shipping deadline, there is also an amazing promotion for 25% off Valentine's Day jewellery, ending at 6:59 EST on February 13th, 2014.
No worries, there's always enough time to browse through our Blue Nile coupon page for the best codes and deals.
While choosing a diamond is no easy feat, especially for those shopping for a ring to pop the big question with this Valentine's Day, Blue Nile simplifies the daunting task with a bit of Diamond Education.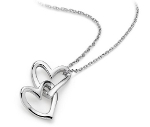 Since most women love anything with meaning and significance behind it, why not get your Valentine this gorgeous Double Heart Pendant? Though originally priced at $87, the above discount brings down this to $65.25. As for the meaning, all you need to tell her is that both of your hearts will forever be intertwined as one — a classic line and a sure winner to her heart!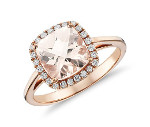 For those of you whose budget allows it, I just had to include the shockingly bewildering Morganite and Diamond Halo Cushion Ring, discounted to $846.75 (down by 25% from $1129!). I definitely suggest taking a look at the ring's full loveliness at a bigger scale on Blue Nile's website. Better yet, their Extraordinary Gifts section is most certainly worth a look — if only just to daydream or even get inspiration for a smaller-scale gift.
Are you planning on getting your Valentine jewelry this Valentine's Day?