Christmas and Valentine's Day are fast approaching but this doesn't mean that you can't treat yourself once in a while just for the heck of it. That's right, reward yourself with some new piece of jewelry this month and enjoy 20% off all orders under $500 or 10% off all those that exceed that threshold.
With promotions updated daily, don't forget to visit our Blue Nile page of discounts to find out more about this jewelry centric company.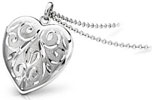 Keep your loved ones close and your enemies even closer with the heart locket. All jokes aside, this is the perfect way to keep pictures of your kids or loved ones close to you, especially in a work setting that prohibits cellphone use. At $90, it has generated close to five stars with over 80 reviews — talk about a smashing success!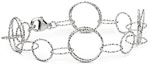 With sweater already in full swing, accessorize with the vivant link bracelet, which is sure to inject some life into a dreary Autumn day with its shimmering design. Otherwise, the venetian link bracelet is also a solid choice as it will easily pair with any outfit.
Speaking of jewelry, those thinking of marriage should definitely browse through Blue Nile's engagement rings section as it is organized into helpful sections such as a diamond tutorial, engagement ring collections and even a build your own ring option.
When was the last time you treated yourself to jewelry?