To commemorate the upcoming day celebrating all the dads out there, Bloomingdale's is rewarding its friends and family with up to 40% off in discounts along with the code below to save an additional 20% off almost everything.
Don't forget to check out the rest of Bloomingdale's promotions as well as our List of the Best Deals for Father's Day.

Does your dad's mustache obsession cause the entire family to be late in the morning? Then the mustache iPhone case might just be the perfect gift this Father's Day. Of course, that is assuming he is the proud owner of the new iPhone 5 and if he isn't, imagine the look on his face when he unwraps one with the case featured on the left!
There are also plenty other cases to choose from if mustaches aren't your or your dad's interest, such as the Eiffel Tower case or the NY Empire State Building.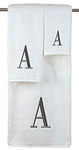 Alternatively, there's also the option of getting a truly unique gift such as monogram towels to not only avoid any confusion as to who used whose towel with a silver metallic embroidered letter but also to feel great on the body as its made from 100% cotton.
Does your dad carry a lot of business cards? The card case might simplify the task of handing them out at the next cocktail party, all the while looking very stylish through gold detailing.
Will you be shopping Bloomingdale's Friends & Family sale?