As one of the most popular department stores in the United States, did you know that Bloomingdale's ships to Canada? In fact, it's time to get your online shopping going because for a limited time, you can save up to 40% during the Big Brown Sale. In case you're looking to save on items in the sale section, we have a lovely code for you to do just that:
Other savings to be had include, but are not limited to: 50% off select fine jewelry and home items, up to 40% off regular-priced merchandise, etc.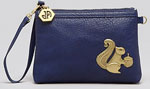 How adorabsies is the squirrel wristlet featured on the left? Granted the gold squirrel is slightly unconventional, but that only adds to its charm as you're sure to be the only one of your group of friends to be rocking it! Better yet, it's a Jonathan Adler original and would be the perfect match for just about any outfit; after all, blue and gold are certain winning colors all year round.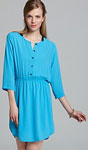 In fact, it would even look great with the aqua shirttail dress with a round neck with a contrast trim, long sleeves and partial front button placket. Already reduced to $58.15, it can be yours for just $46.52 with the coupon above.
How will you be saving at Bloomingdale's this week?