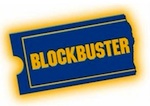 As most of you may know Blockbusters is going bankrupt. This is why a lot of stores were closed back in June, if I remember correctly. They are now running a clearance sale to sell everything they have in the remaining stores, which are also going to close eventually. Everything means DVDs, consoles, video games, Blu-Rays, electronic hardware & accessories, candies and more.
The sale started yesterday and here are some of the discounts currently available. This is just the first wave of discounts; it should get more attractive over time to get rid of all stock.
– 25% off all film items, DVDs and Blu-Rays
– 15% off games, hardware and accessories
– 25% off electronics, confection and general merchandise.
Here are a few terms and conditions about this sale:
– All sales are final; anyway if the DVD doesn't work in a month from the time of purchase you probably won't be able to find a Blockbuster open to get a refund.
– Starting on September 12th, the stores will be open only from 12-9pm.
– Gift cards and coupons are not honored anymore.
– Sale should end on October 1st.
Find the nearest Blockbuster still open
~ The link is no longer valid, please use the search feature at the top of this page to find new offers
This being said, even though we're happy about this fantastic clearance sale, we are truly sorry for all the Blockbusters employees that have already lost their job or will shortly. Good luck to all of you to find a new job. I'm sure that something better is waiting for you out there.