Ladies, let's get down to business: it's time to surprise the man in your life. When I say surprise, I don't mean cook him dinner randomly – I mean something a bit sexier. Show off in something that will make his jaw drop in disbelief at your gorgeousness. Lingerie is not something to think of as taboo and dirty. It's a normal and healthy way to spice up your more intimate moments.
My goal is to not only make you feel sexier, but to also help you save money in the process. We all like a bit of lace, but not the hefty price tag that goes with it! So I give you the Va-va-Voom List of Enticing Savings with my top picks of where to buy your naughty undies for under $50.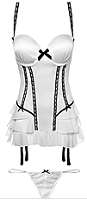 La Senza is a go-to favorite of mine as they always have something to suit whatever mood you're going for. With the semi-annual Clearance sale going on now, the savings you can get a tad bit insane! Say hello to this Hello Sugar Merry widow on sale right now for $17.85. The Hello Sugar line is a push-up bra that makes you go up two sizes larger than normal, meaning two sizes more of the wow factor.
Grab these Lace top stockings to finish your sexy look for $4.95.
Shipping is at flat rate of $9 for regular delivery and $20 for priority delivery. Make sure to check the La Senza coupon page for any specials offers on shipping!


Another personal favorite and second on my list of go-to places is La Vie en Rose, which provides ample choice on how much (or how little) skin you would like to show this Valentine's Day. With a special section dedicated to new items meant for the big day, they have a mass selection to choose from. Be daring in this Agostina Nightie for $39.95 featuring mesh and lace that will cover you up where you need it most. Available in multiple colors, this is sure to be a favorite for your man.
Try something new with Chocolate body paint for $11.95 and get creative! Just make sure to put something down to not mess up your bed sheets.
Shipping is a flat fee of $8.95.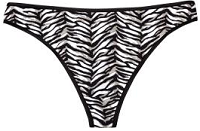 We can't forget about the bottom half of our alluring bodies! Addition Elle is having a huge lingerie sale where prices are reduced by an additional 50% on top of already reduced prices! Available in a plethora of designs and colors, take a look at this Zebra print thong that is a mere $2.
Shipping is at a flat rate of $7.50.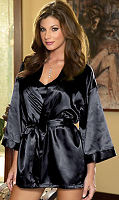 With a name like Bare Necessities, it's hard to believe that you might find every style and design possible, when in fact, that's exactly what their selection consists of! Pick up this Dreamgirl robe and baby doll set for $34.00 to really get him going. Both designed in satin, it's sure to make you feel sensual and super sexy as you take it off to reveal what's underneath.
Show off a bit more in this lace garter belt for $36.00, featuring two hooks to keep tights firmly in place.
Shipping varies per order, so make sure to check beforehand.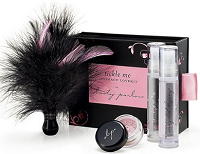 The cream of the crop, the best for last, and the name that is synonymous with everything sexy: Victoria's Secret. If you have yet to buy anything there, then you have definitely been missing out! Spice up the night with this Tickle me intimacy kit for $30, which includes kissable body glitter, a feather body duster, massage oil and lubricant — basically, all the toys needed to avoid leaving the bedroom.
Don this Lace ruffle baby doll for $38 to spark up the romance.
Shipping varies per order amount.
Share with us your Valentine's Day lingerie ideas! What are you going to wear for the night?