Beejewels Discounts – Expired!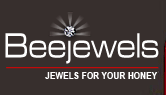 A newish site called Beejewels.com are releasing some fantastic promotions and discounts on their jewelry, just in time to give your loved one that perfect gift.
BeeJewels.com is an online store for purchasing personalized 14k Gold Jewelry including chains, necklaces, pendants, charms, bracelets, earrings, rings, religious jewelry and much more, and the best part is that you buy them at wholesale prices.
Promotion Expired!