Toys don't have a maximum age limit (if there are any on the box, then they have never met me) and are still appealing to play with at times even for grown adults. Treat your inner child, or the actual child in your life to something from Little Tykes and save up to 20% off select toys when you buy them from Sears.
For deals you might not be able to directly play with you can still take advantage of the other deals on our Sears page.
Shop the collection at Sears here
Expires: Not Provided
I don't know about you, but I have fond memories of playing with most of their play sets when I was younger. The kitchen set I had at home was not as nice as the one they currently have, but I loved to pretend I was a master chef and that all my dishes were award winning and tasty.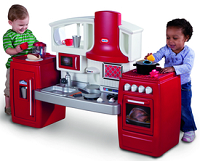 Besides being a good distraction for a few hours, this play set also helps fine tune motor skills and helps them find out more about kitchen utensils and safety. You can currently save $20 on it and pick up this toy for your future Gordon Ramsay at only $99.
To add some sugar and spice to this offer, Sears is also currently offering free shipping on orders of $75 or more.