One of the deals we most look forward to here at Voucher Codes is Hudson's Bay's –well– Bay Days, which features their lowest prices of the season with up to 75% off loads of awesome merchandise. To give you an idea, here's some of the items that you can see super reductions on:
30% Off women's boots or shoes when you buy 3 or more;
40% Off coats and jackets;
Up to 47% off Kitchenaid small appliances;
Up to 70% off Henckel's cookware and gold earrings;
Up to 75% off select luggage;
And so much more!
Shop the Bay Days now to save up to 75% off
Expires: 24th October 2013
For any baker, even a beginner, a Kitchenaid is absolutely vital. I just recently purchased one and while it was quite the investment at first, I don't regret a single penny because it's just the biggest time saver and the results are fantastic. The best part is that with the Bay Days, you can get an Artisan Kitchenaid for $100 less along with in a huge variety of colors from almond cream to blue willow, cinnamon as well as the standard white or black. The Kitchenaid's versatility is also a huge benefit because you can get a attachments such as a food grinder, a sausage stuffer and even an ice cream maker.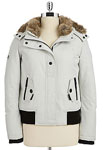 Baking aside, with the temperatures getting colder, I can't stress enough the important of a good jacket. Freezing in a sweater just isn't a viable option, which is exactly why the Point Zero bomber jacket should come in handy, even though it's technically a winter jacket. If you're on the frillier side like me, then it's definitely worth considering because not only does it look great, but the price is also just as awesome: it's on sale for $108. Plus, the hoodie is lined with fur and is detachable to boot!
Have you ever shopped the Bay Days? How much did you save?