Don't worry, you're not dreaming; Bay Days are really back and they are better than ever. Our The Bay Canada page has been getting tons of love from you guys since we updated it with one of the many offers available during this event. For a limited time, you can save up to 30% on Women's shoes and fashion boots. A girl can never have enough shoes, right?
Shop the shoe collection at The Bay here
Expires: 18th October, 2012
We can't all have a revolving shoe closet like Carrie Bradshaw from Sex and the City, but a girl can dream, right?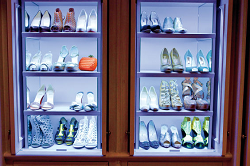 Keep in mind that items ending in $0.99 don't apply to this deal, and the discount is taken off in your bag. It breaks down like this:
Buy one and get 20% off
Buy two and get 25% off
Buy three or more and get 30% off
I'm on the verge of welcoming these white sandals into my shoe collection. They retail at $40 and, if I were to just buy one pair of shoes, it would go down to $32.00. Now that's a steal!