It's not often that Banana Republic has a sale/coupon of this magnitude. It is more of an upmarket brand (and the prices certainly reflect this). So when we get wind of a 50% off coupon code (randomly spotted it on their site this morning) we knew it would make waves with our fashion conscious visitors. I put the lengthy T&C's at the end of this post, but they are pretty standard (like not applicable on Gift Cards), but there are a few lines that are not covered, so this offer is not completely site wide unfortunately–getting 50% off a leather jacket would be amazing. There is free shipping on all orders over $50.
Marc updated our Banana Republic page listings with this offer, there aren't any other new offers at the moment, but if you are reading this after the 11th Jan 2014 then that's the page you want to check out for the new offers.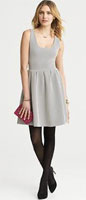 It's funny as when Anne, Erin or Margarita write here about deals and coupons the examples they select are chosen by females. I love fashion and am a stable attendee when my girlfriend goes shopping so I like to think that I have a bit of an eye for fashion. So my personal pick would be this Dot Ponte Fit-and-Flare Dress at $160 – sale discount = $89.99 & then – coupon = $45 (not including tax or shipping), but again, I would buy some socks or something to get over the $50 threshold to take advantage of the free shipping offer they are running.
Happy Shopping!
T&C's: "Offer valid online only through 1/11/2014 in the US and Puerto Rico. Additional restrictions and exclusions apply. Click here for complete details."