For most people, jeans and a t-shirt simply doesn't cut it as daily work attire, especially at an office job. Revamp your wardrobe and save 30% during Banana Republic's "The Something For Everyone Event" with the code below. Even better is that this same coupon can be be entered for Banana Republic's other two brands: Gap and Old Navy. But hurry, this event won't last long!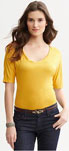 Prepare to be amazed! Already reduced to $24.99, the v-neck dolman top can be further slashed in price to $17.49 with the code above! That's pretty incredible considering that it was originally priced at $74. Featuring a relaxed fit, it's also available in pink and white in case yellow isn't really your color.
The Luxe touch tank is perhaps worth a look as well as it can be yours for just $19.61, down from $35 and would look great with a skirt and blazer for the office.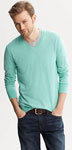 Available in a variety of colors from turquoise to purple and even red, the men's modern v-neck is certain to look great for any occasion: whether for office styles or a relaxed evening spent indulging drinks and good food. Originally priced at $74, it can be discounted to $41.45 and most importantly, is guaranteed to feel super soft to the touch with its make of 55% Pima cotton.
Stay on top of all of Banana Republic's deals and coupons here.