Is your mom the next big thing in the world of pastries and everything yummy from the kitchen? Even if you're not shopping for your mother and are just looking to gear up your kitchen with the latest tech, Beyond the Rack has the hook-up to everything essential. Shop their Baking Event and pick up most of what you need to be a cupcake champion.
Need ab even bigger reason to prep your kitchen? Why not use our Vouchercodes.ca Exclusive code to get a $10 credit when you sign up?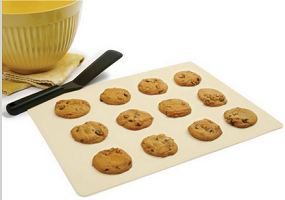 It's the little things in your kitchen that you don't think you need until…well, you need them. I know I can't be the only one that runs into the dilemma of where you should cool your tasty cookies before devouring them? A grill can do the job but, and this has happened to me before, if the cookies are too hot, they start to deform and sag in the spaces of the grill. No one wants a silly looking cookie!
Avoid future cookie mishaps with this Silicone baking mat on sale from $20 to $9.99. Place your tasty morsels of heaven onto this mat, let them cool and then munch away to your hearts content. The silicone helps to slide them off with easy and prevents anything from sticking to it.
Are you a baking fiend or are you a savings fiend? Be both with this awesome exclusive, also located on our Beyond the rack page.