Gentlemen (and Gentle-Ladies), you're up! Frugal-fan Patrick sent me this tip and thought that most of you would be interested. It was a day, a day unlike any other, when Earth's mightiest heroes found themselves united against a common threat, to fight the foes no single superhero could withstand; on that day, The Avengers were born. Assemble your own team and satisfy your craving for superheroes by pre-ordering the Avengers Collector's edition set from Amazon.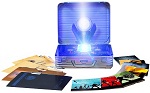 Visit your local shawarma joint and see what you can get in this set:
Marvel's The Avengers (Blu-ray 3D and Blu-ray).
Captain America: The First Avenger (Blu-ray 3D and Blu-ray).
Thor (Blu-ray 3D and Blu-ray).
Iron Man 2 (Blu-ray).
The Incredible Hulk (Blu-ray).
Iron Man (Blu-ray).
Bonus Disc – "The Phase One Archives" (Blu-ray).
A replica of Nick Fury's Suitcase with a glowing Tesseract and other memorabilia.
This is a pretty epic Collector's set and the packaging is down-right awesome. The only bad side: the price. It's on sale right now for a limited time at $159.99 instead of $239.99 which makes it a little easier to swallow. Keep in mind that this is a pre-order only and that the collection is only going to be released on September 25th, 2012.
Promotion Expired!