With our very own Canadian Thanksgiving already behind us and the American Black Friday almost upon us, stores are already beginning to ramp up the promotions. One such stores is Asos with up to 70% off loads of ultra fashionable items for both men and women.
Be sure to rate the Asos online store based on price, quality and more.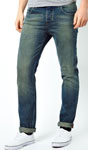 Enjoy up to 70% off at Asos
Expires: 27th October 2013
Having shopped quite a bit for men's jeans (not for myself mind you), I can definitely say that quality denim on a budget is hard to find. While not for everyone because of their fit, the slim jean combine both affordable price with a jean that has every potential to last longer than a season because of its reinforced seams and 100% cotton make. At just $30.01, it's certainly worth a try.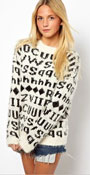 When you're not shopping for clothes, do you find yourself perusing our Chapters page for new codes and promotions to save on books to read in your spare time? Then I bet you're going to fall head over heels the alphabet sweater featured on the right. Reduced to $37.51, it's perfect for book lovers and writers alike (and everyone else of course). Though the model in the picture is wearing shorts with it, I definitely recommend your comfiest pair of jeans this fall or winter and a nice steaming cup of cocoa or coffee while you get lost in a new book.
What's on your reading list? Share with us on our Forum.