Not only do we present to you today our very first post about Ardene but also our very first VoucherCodes.ca Exclusive for them as well! Undeniably, Ardene offers some of the best deals out there for young girls and with fashion forward trends at that also. For a limited time, shop at Ardene and save an additional $10 off orders of $50 and more, a fabulous discount that has been extended for all fans of Voucher Codes until the end of August 2013!
Are you a frequent Ardene shopper? Let us know your favorite on our brand new Forum!

Quite frankly, although Ardene is known as being youth oriented, many of their apparel can be worn by adult women as well. The aqua skinny jeans are a great example of this, especially paired with a wedge throughout the remaining months of summer.
In fact, wear it with a white blazer for the ideal office look and for just $29.50 or better yet, take advantage of Ardene's deal and get two for $30.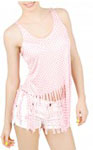 Not to be confused with the famous TV show, fringe is back in style the fringed heart tank from the Outfits section is worth a buy for any teenage girl in your household. As we mentioned on our Ardene page dedicated to all this store's hottest offers, the the Outfits guide is a handy tool for online shoppers as it can often be difficult to gauge which pieces would look great together. Granted many guides have sprung up on popular websites such as Pinterest and you could most certainly make your own fringed top from an old t-shirt but really, at just $12.50, this top is a time-saver; not to mention the fact that your daughter will love you for getting in.
Most importantly, don't forget to accessorize with the etched triangle necklace, especially since with the End of Season sale, you can get 2 for $15.