With the winter season coming up, winter tires are a necessary item that's needed to drive around safety. Most tires last about 4-6 years before needing to be replaced, depending on how you drive and how often. We've teamed up with our friends over at Auto parts warehouse to bring you a neat exclusive code to save 10% on orders of $150 or more, but luckily you don't have to use them on only tires.
Make sure to drive yourself over to our Auto Parts Warehouse coupon page for other automobile related codes.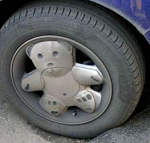 You can't buy these rims in the image, but if you honestly have them, keep them firmly on your vehicle, they're amazing.
One of the features that I thought was super practical was that you can search for tires by imputing the year and make of your car. I bought my winter tires a few years back, but have since forgotten what my size tires I have—I also own a Yaris, so they aren't going to be that big to start with. It's a great feature for people like me and you can filter what kind of tires you're searching for as well. I don't need truck tires or all seasons, so obviously I stuck to the winter tires section.
I found some Firestone Winter tires for less than what I paid retail! They are $72 each, which means a set of 4 comes out to $288–I easily paid over $400 for the same tires. Add the 10% discount to it and that drops lower to $259.20. Score!