Although we just recently wrote about Blue Nile, I couldn't resist mentioning them again as discounts on their jewelry are not to be avoided. For the next couple of weeks, save up to 20% off pearls and regularly priced jewelry. Also, don't forget to check out all the Blue Nile coupons on our promotions page.
Although these bow earrings are labeled for children, aren't they darling enough for all ages? I would definitely wear them! The great part about them is that a piece screws on to protect the back of the ear from getting poked by the earrings themselves.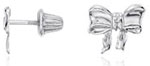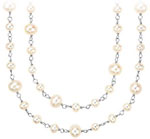 Just as a classical pair of pearl earrings and a pearl strand necklace are both absolutely essential for any jewelry collection, any kind of other pearl jewelry is also indispensable. As a wonderful example, take a look at the vintage-style pearl necklace featured on the right on sale for $121.52 with the above discount. At 36 inches in length, it's the ideal necklace for either layering alongside other necklaces (youtube video) or for wearing as a staple piece with a simpler outfit.
With regards to pearls however, it is important to know that they come in a variety of types, quality, shapes and luster. Indeed, though a lesser known kind of pearl, the Tahitian pearl earrings would present a divine look with any evening dress.
We'd love to hear from you! Tweet us @CouponsCanada your preferred jewelry piece from Blue Nile.