Aldo Shoes don't release coupons often so it is a rare treat they are giving us now. Use this coupon code before September 4th at Aldoshoes.com and save 15% on your purchase. Plus you can also get free shipping on orders over $75.
If you think that the sale section isn't full enough, head over to their clearance section where the prices are even lower and the selection is massive. I found a super cute pair of ankle boots that would be perfect for late fall, early winter and they were only $55.
As some of you may know, I'm kind of a fashionista so I'm always reading about the latest trends on the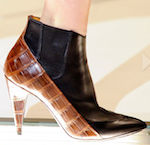 runways. So I went to have a look at the trends for Fall 2012 on one of my favorites fashion magazine websites and found a must when it comes to fashion: Harper's Bazaar.
When it comes to footwear, it looks like this Fall is going to be all about high boots (the over the knees one) and also the mix of fabrics (just like the pair in the picture). I love high boots! They are so classy but so expensive too :( You can find all about the shoes and accessories trends for Fall 2012 here.