When it comes to hunting for the best bargains, surely a sale on top of a sale has to be the best deal ever. This week-end only, save an additional 30% off items already on sale at Aeropostale. This means tops as low as $3.99 and bottoms starting at $5.99! Also, don't forget that shipping is free on orders of $100 or more.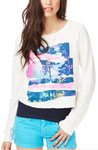 Originally priced at $39.50, the long sleeve night cropped sweatshirt can be had for just $4.89 during Aeropostale's incredible promotion — that alone should be incentive enough to add it to the cart whether for yourself or perhaps the teen in the family.
Keep in mind that as some reviewers have helpfully pointed out, this isn't a sweatshirt per say as the material is thin and better suited for the warmer summer nights than as a shirt to keep warm in subzero temperatures. Either way, it's surely stylish enough to be worn whenever!

Undoubtedly, we have all come across a nice pair of jeans that was quite simply and disappointingly too expensive. But this doesn't mean that a great pair of jeans has to come with a high price tag. Take for instance the Hailey medium wash jeans, which are now just $14.69 instead of $49.50. Their true to size and feature a fading style for a relaxed and casual look.
What is the best deal you have ever scored? Share with us on Facebook now.