If you've been avidly watching our Via Rail Canada coupon page like a hawk waiting for the next sale, you're in luck! For a limited time, save 50% on off-peak adult fares for both economy and business class fares.
Visit Via Rail Canada and find out more
Book by: September 17th, 2012
Travel before: December 14th, 2012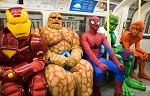 I can't promise you'll see superheroes on your train ride, like in the image, but it would be awesome on the most epic level possible.
The fares are for one-way trips only, but still offer huge discounts. Just to give you a slight idea of what the fares are:
Ottawa to Montreal in Business class: $66
Montreal to Toronto in Economy class: $69
Toronto to Jasper in Economy class (before October 22nd): $325
Toronto to Vancouver in Economy class (after October 22nd): $296
With Thanksgiving right around the corner, as well as the Grey cup in Toronto, this might be the perfect chance to take that trip you've been planning!